HISTORY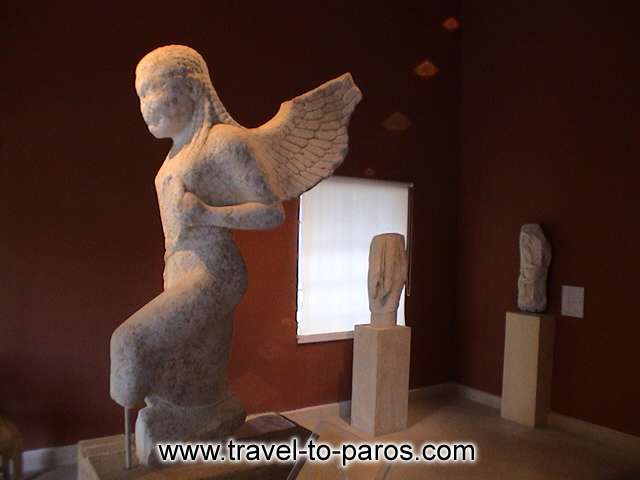 Paro's long history is full of incidents that shaked the island and Cyclades generally. It had times of glory and financial robustness, but also times of decline. In every period of time was among the leaders.
Paros is one of the islands in which minoic civilization was developed. As it seems, Paro's founder Alkaios was from Crete. That's why the town was initially named Minoa, in honour of the minoan king. It was built in the same location as the present capital of the island. This town was one of the most important ports of minoic civilization and, according to the archaeological findings, flourished in 3000BC.

ARCHAIC TIMES
In 1100BC, when Dorians attacked Arcadia, its residents took refugee in the island. Paros was their leader from whom the island took its name. Paro's residents developed agriculture and trade. During the 8th century Paros was a powerful naval force and the administrative and trade center of Aegean Sea.
In the 6th century BC starts the decline period of the island. Long term wars with Naxos eliminate the island that is no longer the center of the Aegean Sea.
In the beginnings of the 5th century BC Paro's residents make an ally with Persians. Paros was the base of the Persian fleet in Greece.
During the Battle in Marathon, the residents of Paros fought on the side of Persians and were defeated. In 479BC in the sea battle of Mikali, Paros submitted to Athens.
In 338BC Macedonia domains Paros until 145BC, when Romans take her over.
The Roman domination lasted till 88BC. In that period Paros declined financially and spiritually.

BYZANTINE TIMES
In the 1st century AC Paro's residents-although they were under the Roman domination-became Christians.
During the 4th century BC the island was under the Byzantine Empire. It was then that Grand Constantine, the first Emperor of Byzantium, to fulfill his mother's oblation to Panagia, built the temple of Panagia Ekatontapiliani or Katapoliani. It is now one of the most important, existing byzantine monuments in Greece.

ENETOKRATIA
In 1207, Eneti take control of Paros, and incorporates to the Aegean ducat, established by Marko Sanoudo.
From 1389 to 1537 is domained by the Frank dynasty of Somarips that made Paro a trade center.

TOURKOKRATIA
In1537 the Turkish fleet takes over the island. Paro's port becomes a military naval yard by the Turkish fleet.
During the Greek revolution, Paros gives no ships to the struggle for their freedom.
But it participated to the armed struggle against the Turkish.
In 1830, according to the convention of London, as all the islands of Cyclades, is added to the Greek nation.