SAINT SPYRIDONAS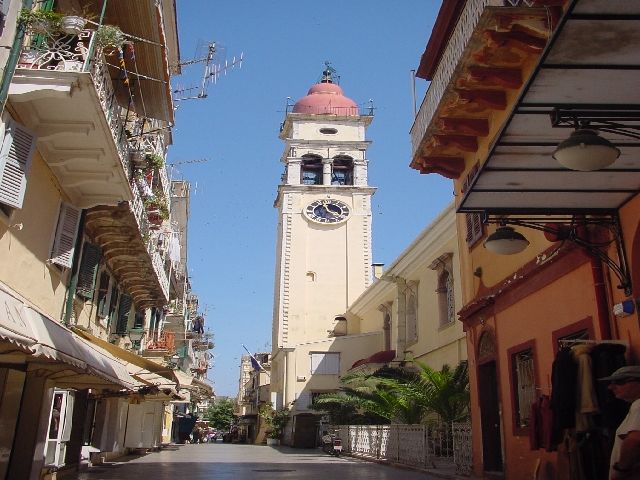 Saint Spyridonas is the protector of Corfu and the church dedicated to him attracts thousands of believers that visit him and prey for a miracle.
The tradition reports a lot of miracles. It is said that he saved the island from the Turkish fleet, when Greece was under the Turkish domination. He showed up as a priest coming from the sea, through lightings and thunderstorms and caused the catastrophe of the Turkish ships.
During the 17th century the saint saved once again the residents of Corfu. It was Holy Saturday and people were dying from hunger. A ship full of wheat was passing close of the port, heading to Italy. Suddenly the captain saw the figure of an old man leading him to the port. The ship anchored and Saint Spyridonas called all residents to share the wheat. The locals talk about many other miracles for the salvage of the island or for believers that asked for his help. According to the local legend the Saint wonders around in the nights and listens prayers from believers.
The church of Saint Spyridonas was built on the remains of an older church. The completion of the church was made in 1589 with financial contribution of all residents. It is a simple, of basilica style, church. The icons decorating its interior are copies from works of the painter P. Doxaras. They are divided into 17 parts that show the saint's miracles and that of Evangelists. The mortal remains of the saint are saved in a shrine made in Venice in 1867.
In the four litanies all around the year with the procession of saint Spyridona's sacred relic, all philharmonic orchestras participate. It is worth seeing it and live this magic atmosphere.
The litanies are carried out: in December 12th, the saint's birth date, in August 11th, when the salvage of the island from Turkish is celebrated, in the Sunday of Vaion when it is carried out the anamnesis of the miracle that the saint saved people from hunger, when he showed up in front of the captain of a ship full of wheat and made him go to Corfu.